Sounds strange! Right? This of course, is a girl whose mother passed away when she was 9 and her father brought her up, all alone; today she is 24 and is going to finish medical graduation; father's involvement in bringing up a child cannot be stressed more, especially in today's era of nuclear families. Fathers have to shake off their role as a visiting faculty/ consultant parent/ periodic auditor of care given /a financier or 'I will give quality time whenever I can' and get involved before it is too late.

It is time; fathers strive hard to find the necessary time and get involved in bringing up children and not merely to provide the funds and an occasional hug or pat! 'Wow! That is my angel!' They must take it as 'task' to be accomplished; a daily item on their 'To-do-list'.
Father is supposed to be a vital factor in the child's development, but more often, is not. Even in Double Income families (i.e. both parents working) mothers spend more time with the child and shoulder more responsibilities than the father; Not many fathers, of course realize/accept this. Fathers keep postponing spending time with their kids under the pretext that on a holiday they would go out or for a picnic and have REAL fun. What they don't realize is that child needs it THEN and not whenever. For the child the quantum of time matters more than the ambience they spend it in.
Research has conclusively proven that 'Children With Father In Family Have A Head-Start In Life'; of course this applies more to single parent (mom) families but goes on to suggest that young children who spend decent time with their father are better learners, have higher self-esteem than others who only get the so called Quality Time from their dads.
A study published in Britain clearly shows that "a father's presence and involvement benefits the child". It goes on to add, "Now, we need to find ways to encourage the positive and supportive roles of fathers in the lives of their children. Kids definitely benefit from having a man around and they especially benefit if the man is loving and supportive".
Child needs a Role Model and who better than Father? The million-dollar question is how to convince them how important it is and why they must do it?
It has to done in the spirit of equal partnership and not merely out of compassion (Oh! I will help you out' syndrome/ a gesture of generosity or as a special favor&that too returnable). A father must consider care of the child as vital as his job or career. He must contribute to all the facets of home and childcare, more so when the spouse too is holding a full time job.
Father's sharing in childcare has its own advantages. Firstly, it lightens the pressure on the mother. Secondly it provides her badly needed companionship, especially in a nuclear family with no support from elders. Thirdly, child gets love from both and grows up without any kind of sexist bias.In addition, he also gives his wife a sort of mental satisfaction and contentment. The knowledge that her husband realizes bringing up the child is the responsibility of both parents and that sharing (of every aspect of life) is very important for both of them, gives her immense satisfaction.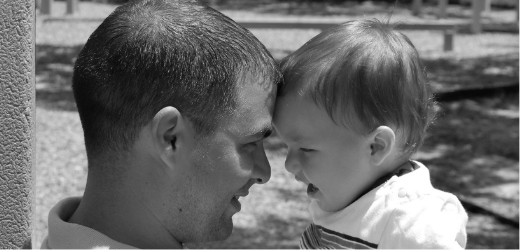 It also provides a sense of balance. Men and women complement each other – men teach children to be fearless, while women teach them about the dangers. Man might encourage a child to go to the top of the tree, while the women would warn them to be careful not to fall off. The true Yin & Yang team!
Father's involvement adds up to the security and development of the child. It is also seen that fathers are young children's preferred playmates, not just for boys but for girls as well. Very important in the perspective of parenting.
But, beware! Avoid being
Authoritarian Father: If the father ever tries to be authoritarian, asserting himself ruthlessly over wife and the child, it is bound to prove counterproductive. It may backfire, inviting troubles in as much as that the child becomes either inhibited or rebellious.
Weak Father: It must also be noted that a father, who is far too shy and submissive to be a role model is just the opposite of the so-called "authoritarian father". This situation too causes anxiety, insecurity and several adjustment and behavioral problems, in an unstable child.
And now in true social media style – share it with all fathers you know and all mothers who will agree and show it to the 'consultant' in the family 🙂
Dr Chander Asrani, is a post-graduate in Family Medicine. He has over 36 years in family practice and has witnessed several kids going awry because father was just a shadow in their life. He writes on various subjects of wellness; learning to live with chronic ailments and stress. Know more about him at about.me/drasrani.