Do you always drink boiled/ filtered water?
Do you insist that your loved ones always drink boiled/ filtered water?
Would you drink water from a roadside stall, where water is stored in plastic cans?
I am sure, the answer to all the above questions would be an emphatic NO!

Logical. But, The billion dollar question arises – do you think of these qualities of yours when you are about to place a paanipuri in your mouth or are telling the vendor "Bhaiyaji, thoda teekha jyada?"
Do you ever wonder how hygienic is bhelpuri/paanipuri/sevpuri?
It has been proven, time and again, these food items prepared by road side food vendors are not hygienic. Biggest culprit is the 'chutney' – the tamarind one, green chili and red chilli ones; it is a foregone conclusion that the water used in them is neither filtered nor boiled (which you would use if you make them at home). In most cases the chutney concentrate is made and kept for days together (at times for weeks) and is diluted as per the need. The vendor has not water to wash hands and usually has a cloth on which he wipes hands – that cloth if sent to a lab for culture, will grow most frightening bacteria.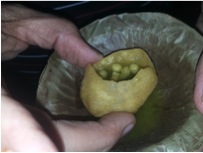 Consuming all these at marriage/ other functions with great confidence of quality especially if you see the person serving with some form of glove, is also to be taken with suspicion – the same disposable glove is removed, kept on the side, re-used; hands of the person filling the paanipuri with 'masala' are not clean.
It has also been noted that in several cases the ongoing food materials is prepared/ stored near public toilets or on the gutter – absolutely unhygienic.
If they are using steel plates, those are washed in contaminated water and wiped with the same cloth that is used by the vendor to wipe their hands. Even if they wish, they don't have the luxury of washing hand after a nature's call.
Such pathetic civic behaviour leads to gastrointestinal infections like dysentery, diarrhoea, typhoid, jaundice and worms in stomach.
Teaching these vendors civic sense is the need of the hour. A programme was held in New Delhi to teach road side vendors such hygienic skills. (Ref: http://www.dailymail.co.uk/news/article-2518851/Is-end-Delhi-belly-Hundreds-Indias-famous-street-vendors-attend-seminar-offering-tips-wash-hands-stop-picking-nose.html) The below produced picture is from that web  page.