Just like every other aspect of healthcare including dental care in adults, dental care in kids is also purely triggered when a cavity has already occurred or some problem has occurred and all possibility of preventive care has been lost. Dental care in kids, ideally, begins at the birth of the child. Yes, even before first tooth has surfaced and provided immense joy to parents. Dental care that begins at birth ensures a healthy beginning with respect to taking appropriate measures in oral care.

Few facts:
–          Primary teeth (so called milk teeth) form a strong basis for future permanent dentition. Milk teeth on average start to erupt by 6 months to 1 year and continue till 2-2½ year.
–          The first milk teeth to fall are the front ones from the lower jaw at approximately 6 years of age, and the last tooth to fall are the milk molars at around 12- 13 years of age, during which there is a lot of transition of them falling at various intervals with permanent teeth taking their place.
–          It is thus of extreme importance that these milk teeth are taken care of as they are not only required for chewing but also guide the permanent teeth in their place, growth of the jaws, normal speech and aesthetics.
–          Severe tooth decay may lead to pain and infection which may harm the permanent tooth bud. Early loss of these teeth may cause malalignment of the permanent teeth.
–          Hence managing of such decayed teeth becomes imperative, which may include taking x-rays (even of toddlers), simple restorations(fillings), root canal treatment, putting caps, extractions, space maintainersetc depending on the degree of tooth decay and history of pain and swelling, if any.
Taking your child to the dentist early often leads to a lifetime of good oral care habits and it familiarizes your child to the dental office, thereby reducing anxiety and fear, which means stress free visits in future. The first dental visit should be by the child's first birthday or when the first tooth erupts. Following a 6 monthly recall at the Pediatric Dentist will help in being counseled on oral hygiene measures and feeding habits. Parents should make it a part of so called 'Well baby care'. Inappropriate feeding habits often leads to a condition known as "Early childhood caries" or "Nursing Bottle Caries".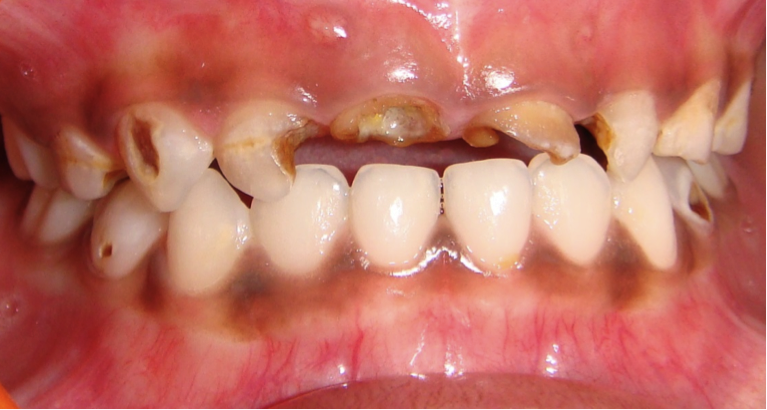 Whenever the child is put to bed with abottle containing milk, juices, sweetened formulas or given unrestricted breast feeding, especially after the first tooth erupts in the mouth causes severe destruction of the tooth structure which leads to rapid dental decay.
It is extremely important to take good care even before the first tooth erupts.
–          Wipe the gum pads  with a clean, soft damp cloth after every feed.
–          Introduce a cup to the child and discourage the use of bottle by their first birthday.
–          Introduce a baby brush with a non- fluoride tooth paste by one year.
–          By two years, you can start using toothpaste with 500 ppm of fluoride and once the child learns to spit and gargle, and also when the child accepts the taste, switch to a 1000 ppm fluoride. All toothpastes will have the fluoride content written.
–          This can be used for children residing in areas with no fluoride/ optimum fluoride in their drinking watersEg: Mumbai, Pune, Agra. Many cities in India have fluoride levels in their drinking waters, which varies in ground waters/ bottled water. The permissible upper limit for fluoride in drinking water is 1.0 ppm in India.
Parents/ caretakers should typically provide oral hygiene care until the child is old enough to take personal responsibility for the daily dental health routine of brushing and flossing (the recommended age for flossing is 6 years by which the children develop the necessary dexterity).
Other preventive measures of tooth decay include:
–          use of topical fluoride agents in adjunct to toothpastes are fluoride mouthwashes, gels and varnishes specially in children who have been extremely prone to decay as an adjunct to brushing.
–          Topical application of fluoride gels and varnishes at the dentist every 6 months is recommended for children. Fluoride strengthens the enamel of tooth and makes the surface of the tooth hard.
Sealants– the chewing surfaces of the molars have deep grooves and fissures. There is a high tendency of food getting caught which leads to formation of cavities. Sealants are shaded or clear plastic applied to the teeth to help keep them cavity free. Sealants fill in the grooved and pitted surfaces of the teeth, which are hard to clean, and shut out food particles that get caught, causing cavities. Application of sealants makes the surface of teeth self- cleansing.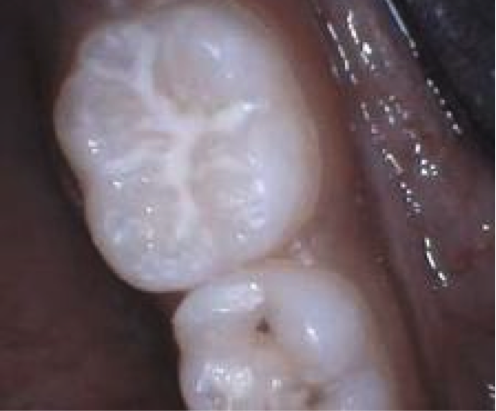 Dental decay depends on many factors one of them being DIET. Sugar containing foods are not just chocolates, but a variety of foods that promote tooth decay. Reduce the intake and frequency of refined carbohydrates. Avoid sticky foods and replace refined with unrefined natural foods. Biscuits, chips, breads which have starch should be avoided. If you replacebiscuits, chips for the snack boxwith cheese, nuts, fruitsit will help. Increase the intake of fibrous foodeg: carrots, oranges, green leafy vegetablesto stimulate salivary flow as saliva is naturally protective against caries. Give caries protective foods such as cheese, nuts, raw salads, fruits. Stimulate salivary flow with Xylitol containing chewing gum between meals for older children.
Mouth Guards- Mouth guards are a must for any child who is into contact sportse.g.football, martial arts, basket ball. They are made of soft plastic and fit comfortably to the upper teeth. Mouth guards are often customized and they are useful in protecting the child's teeth, lips, cheeks and gums from sports related injuries.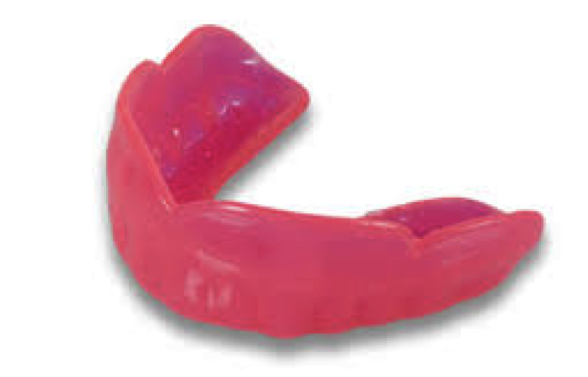 Traumatic Injuries-In unfortunate accidents wherein the child knocks his/ her permanent tooth, it is extremely crucial to act immediately by replacing the tooth back in the socket and hold it with clean gauze. If you can't put the tooth back into the socket, place the tooth in milk or saline and contact your pediatric dentist in either of the situation.
 About Dr Mitali:
Dr Mitali Kochar, M.D.S (Pediatric and Preventive Dentistry) has received her Master's degree from the Bharati Vidyapeeth University- Pune in 2011 after obtaining her BDS in 2007.
She has various publications on clinical pediatric dentistry and has participated at various conferences.
For past two years she is working at an exclusive pediatric dental clinic, dedicated to rationally managing dental needs of children. Her main focus is preventive dentistry.
Mitali has just been blessed with a baby girl and we are sure she is going to practice what she is advising others about.